Tremor measuring 1.1 recorded in Scottish Borders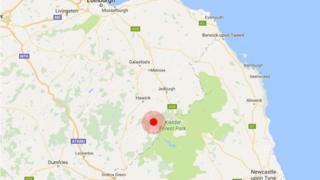 An earthquake has been recorded in the Scottish Borders.
The 1.1 magnitude tremor was recorded at 05:48 BST on Wednesday by the British Geological Survey (BGS).
It said the epicentre was close to Saughtree, about 14 kilometres (8.7 miles) from Hawick.
The BGS said the quake was the result of energy released from movement in a small fault in the Eurasian tectonic plate and was one of 64 tremors recorded across Scotland this year.
Seismologist David Galloway said the tremor was most likely caused by a fault measuring a couple of metres.
Largest quake
He said: "Hawick is probably the nearest place that anyone would have felt this, but it is not likely. You would have had to have been standing next to it to feel it.
"We get about 200 quakes in the UK each year, but most go unnoticed. Occasionally there is one, but not many."
According to the BGS, most earthquakes in Scotland occur in the north west of the country, where up to 20 a year can have a magnitude of more than 2.1.
Mr Galloway said the largest quake to affect Scotland so far this year was at Loch Goil in the Loch Lomond and Trossachs National Park on 17 May. However, that tremor was only felt by one person.
The largest quake to affect the British Isles was recorded off East Anglia in 1931 and had a magnitude of 6.1.