Review after 14% rise in NHS Dumfries and Galloway complaints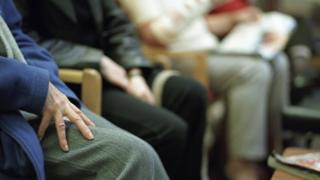 The number of formal complaints made about NHS services in Dumfries and Galloway has risen by 14%.
The health board dealt with 348 grievances in the past year.
The majority of complaints (185) were made about clinical treatment, while 141 dealt with staff communication, behaviour or attitude.
NHS Dumfries and Galloway said it was conducting an extensive review of its complaints procedure to make them more "person-centred."
According to the figures, just over half of all the complaints made were either upheld in full or in part.
'Quality of care'
The health authority acknowledged that more needed to be done to ensure complaints were dealt with in a "timely way".
It added: "The board has already embarked on a review of its complaints management and handling processes, with a view to improving the existing approach to responding to and learning feedback, comments, concerns and complaints.
"The outcome of which aims to provide individuals with a seamless, responsive service that demonstrates NHS Dumfries and Galloway's commitment to improve the quality of care and the patient experience by listening, learning and responding to feedback."
The annual figures and analysis are compiled for submission to the Scottish Health Council.