Lottery pledge to aid golden eagles in Scottish borders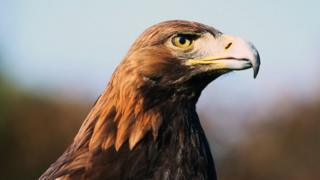 A scheme to boost the number of golden eagles in the Scottish borders has won more than £1m backing from the Heritage Lottery Fund.
The scheme could also see "eagle cams" placed on chicks so the public can watch their progress in the area.
It is part of a plan to increase the number of breeding golden eagle pairs in the south of Scotland to 16.
Conservationists think there are currently no more than four pairs.
They hope it will ultimately boost wildlife tourism and biodiversity in the area.
The total Scottish golden eagle population is about 440 pairs, with most of the birds found in the Highlands and Islands.
The Heritage Lottery Fund has pledged £1,150,500 to the South of Scotland Golden Eagle project, including a development grant of £50,900.
The scheme now has up to two years to submit fully developed proposals to secure a firm award.
Scotland's Environment Secretary Roseanna Cunningham has thrown her support behind the initiative.
She said: "We know that the area could potentially support more than a dozen pairs of eagles, which offers tremendous opportunities for wildlife tourism and biodiversity.
"I'm especially pleased to see such strong partnership work to hopefully make golden eagles a regular sight in the skies above the South of Scotland once again."
'Scotland's biodiversity'
Work is now planned across the south of Scotland to examine how food supplies could be improved for the birds to thrive and nest sites made secure.
Conservationists are also assessing what habitat management measures may be needed to increase numbers, and if necessary, consider bringing eaglets into the area for release.
Lucy Casot, from the Heritage Lottery Fund in Scotland, said: "Thanks to players of the National Lottery, many hundreds of people will have the opportunity, through trails, events and CCTV, to learn more about the golden eagle and its role in Scotland's biodiversity.
"I hope it will inspire and empower them to safeguard its existence for future generations."
The South of Scotland Golden Eagle Project, which is supported by Buccleuch Estates, the landowners' organisation Scottish Land and Estates, RSPB Scotland and Scottish Natural Heritage, was first proposed in 2008.