Early Hornel artwork returns to Kirkcudbright home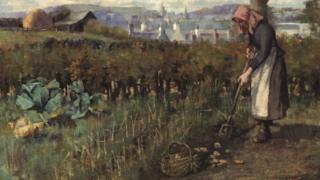 An early work by artist EA Hornel has been brought back to his former home and studio in Kirkcudbright.
Harvesting was bought for £18,000 and is now hanging in the National Trust for Scotland's Broughton House.
The painting was bought thanks to funding from a variety of organisations and individual donors.
Property manager Sheila Faichney said they were pleased to bring the piece home as an "outstanding example" of Hornel's early work.
The painting was purchased with support from Art Fund, National Museums Scotland, Friends of Broughton House, Galloway Members' Group and individual donors.
Ms Faichney said: "We are lucky to hold an outstanding collection of Hornel's work, but have relatively few early pieces.
"This is an excellent addition and will enable us to show visitors how his style developed over the years, as well as providing an insight into the heritage and history of the area."
Art Fund director Stephen Deuchar added: "There could be no better place for Harvesting than Broughton House, Hornel's former home. We are delighted to have helped."
The National Trust for Scotland has looked after for Broughton House since 1997.
The artist lived there from 1901 until his death in 1933.