Diver's lost camera survives three-year St Abbs to Sweden trip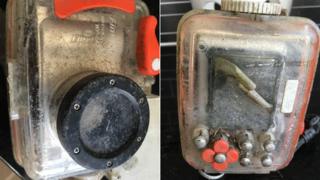 A digital camera lost by a diver off St Abbs in the Borders is being reunited with its owner after being washed up in Sweden three years later.
Lars Mossberg made the discovery while out walking near his home on the island of Gullholmen.
He posted some pictures from the camera on the Lost At Sea Facebook page to track down its owner.
A friend recognised it belonged to Adele Devonshire, from Manningtree in Essex, and it has now been sent back.
Mr Mossberg told the BBC Scotland news website how he made the discovery.
"I was out walking on the small island where I live," he said.
"I saw something very near the water and I thought it was probably a camera but I did not realise it was an underwater camera.
"Then I took it home and after a while I cleaned it and opened it up and I saw it was a very nice camera."
He discovered hundreds of pictures and then set about trying to trace who it belonged to.
"I thought: 'I need to try to find the owner of this camera'," he said.
Family photos
He discovered the Lost at Sea Facebook page and submitted a few photographs of the camera and some of the images taken from it.
The post appeared on the page and got almost immediate results.
A friend of Ms Devonshire made the link.
"She realised this was her friend's camera," said Mr Mossberg.
"Then I got in touch with Adele and she told me she was diving with her dad and some friends and lost it on 6 July 2013 - it is incredible.
"Of course she was happy because there were photos of her family and friends."
Mr Mossberg said it was amazing the camera survived its trip as generally items get smashed against the rocks when they hit the shore.
He has now parcelled it up and sent it via courier to make its journey back to its owner in the UK via a more traditional route.
Responding to the find on the Lost at Sea Facebook page, Ms Devonshire said she was "in shock" at the find from three years ago.
"I still can't believe it," she said. "To think it's been bobbing around the sea all this time."