Dumfries and Galloway regional referendum motion rejected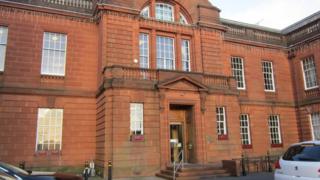 Dumfries and Galloway councillors have rejected a motion for a separate referendum in the region in the event of another Scottish independence vote.
The proposal had been tabled to the local authority by six independent group members.
They said the "overwhelming majority" of people in the region voted to stay in the UK in the referendum of 2014.
However, the motion failed to receive the necessary support for approval when it was taken to the full council.
The Dumfries and Galloway Independent Group was formed by a set of councillors who split from the local Conservative group three years ago.
Councillor Peter Diggle proposed the motion, seconded by councillor Ian Carruthers.
'Nonsensical stunt'
It asked for a separate referendum in Dumfries and Galloway on whether or not to remain in the UK - if another vote goes ahead on Scottish independence.
They had also suggested that other local authorities in Scotland should follow suit.
The move was dismissed as a "nonsensical stunt" by SNP MP for Dumfries and Galloway Richard Arkless.
A report to Dumfries and Galloway Council said there appeared to be no governing legislation in Scotland relating to such matters.
However, it said the use of the full electoral register for local referenda was permitted by the Representations of the People (Scotland) Regulations 2001.
"This would suggest that there is no legal impediment to holding a local referendum," the report concluded.