Dumfries and Galloway power line upgrade scaled back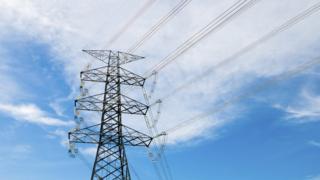 Power line upgrade plans in southern Scotland have been significantly scaled back after previous proposals were found not to be cost effective.
SP Energy Networks wanted to build a new line from South Ayrshire to Cumbria - most of it in Dumfries and Galloway.
Now it is proposing new infrastructure for less than 30 miles (46km) between Kendoon and Tongland, in Galloway.
The changes follow public consultation. A further consultation on the revised scheme will take place in the autumn.
SP Energy Networks' transmission director Pearse Murray said: "The future of electricity generation in Scotland differs now in comparison to what was forecast when we first started planning this upgrade.
"We don't want to overbuild, but it is vital that the transmission electricity network in the south west of Scotland is modern, reliable and capable of supporting growth.
"Our revised proposal will ensure that only the appropriate level of infrastructure will be built at this time."
He said the design would allow "flexibility to adopt further upgrades" if there were significant changes to energy policy, or changes to the operational requirements of the transmission network in the years ahead.