Threave Castle closed after peregrine falcons discovered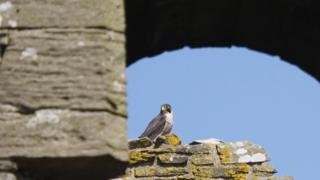 A ruined island castle in Dumfries and Galloway has been closed to visitors after it was occupied by a pair of feathered invaders.
Two peregrine falcons set up home in Threave Castle after the site was hit by devastating floods in January.
Plans to repair damaged buildings on the island were scrapped when the protected birds were spotted.
Now there are hopes the 14th century fortress, which is only accessible by boat, could reopen in July.
The castle, which stands 30m tall in the River Dee, near Castle Douglas, is normally open between April and October.
A spokesman for Historic Environment Scotland, which looks after the attraction, said it has been closed due to "unforeseeable circumstances".
"Firstly the extreme weather at the beginning of the year flooded the site, making the ticket office and welfare facilities inaccessible," he said.
"By the time the water had subsided enough to allow for pre-season opening safety inspection and maintenance works to be carried out, a pair of nesting peregrine falcons had arrived, which are given the highest degree of legal protection by the Wildlife and Countryside Act.
"After consultation with Scottish Natural Heritage, National Trust for Scotland, and others, we agreed that maintenance work could not go ahead until the birds had safely nested.
"It now looks as though the young falcons are getting ready to fly the nest, which will allow us to get on with the job of repairing the site. We hope to have it reopened for visitors by the end of July."
The National Trust for Scotland said it had been a "remarkable season" for birdlife on the Threave Estate.
The resident ospreys have produced four healthy chicks, bringing the total of chicks reared since 2009 to 20.
National Trust for Scotland experts said it was very unusual for four chicks to be hatched at one time.
Threave Castle was built in 1369 as a stronghold for the Black Douglases.