£1m Hawick sports pitch work begins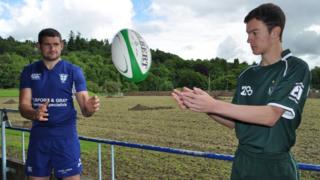 Work has officially started on a £1m project to provide a 3G sports pitch for the town of Hawick.
The first sods were cut at Volunteer Park by rugby players Graeme Anderson of Hawick Linden and Morgan Tait of Hawick Wanderers.
It is hoped the new pitch will be open by the autumn.
Councillor Vicky Davidson said the project was a "great example" of sports clubs and public sector organisations working together.
"We have to thank the Volunteer Park Sports Club, as well as Bill McLaren Park Ltd for getting this project off the ground," she said.
"Sports clubs and school pupils across the town will benefit from the 3G pitch.
"It is an all year round playing surface, with floodlighting, which will allow a considerable increase in participation at all levels.
"You only need to look at how Galashiels has benefited from the Netherdale 3G Arena to see how such a facility can impact on participation - around 1,200 football and rugby players of all ages use that facility each week."
The new pitch is being built by Malcolm Construction and will be managed by Live Borders - the charitable trust set up by the council to run a range of facilities.
Alan Stirling of the Volunteer Park Sports Club said: "The two rugby clubs Hawick Linden and Hawick Wanderers who form The Volunteer Park Sports Club were extremely happy to work along with Bill McLaren Park Ltd as well as SBC and Live Borders to help bring the 3G pitch to the Volunteer Park.
"The 3G pitch will be a major factor in allowing the clubs to continue to attract players, both adult and junior, and will benefit the whole of the rugby playing community in Hawick and the wider area."