Hoax fire alarm rise 'disappointing'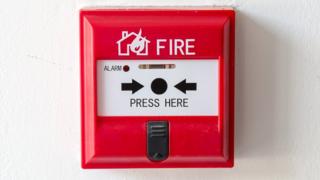 The Scottish Fire and Rescue Service has expressed disappointment at a "dramatic" rise in hoax emergency calls in part of Dumfries and Galloway.
The number of incidents in Nithsdale more than doubled in 2015/16 compared with the previous 12 months.
However, a report to councillors shows efforts to tackle the trend have started to show signs of progress.
A programme of engagement work has been carried out in response to the surge in hoax calls.
The latest figures show that fire service controllers dealt with 25 hoax calls or maliciously activated alarms from the Nithsdale area in the 12 months to the end of March.
Malicious false alarms in Nithsdale
Year
Number of incidents
2011/12
5
2012/13
5
2013/14
6
2014/15
11
2015/16
25
The figure for the previous year was 11.
Of the most recent total, 16 of the calls came from 12 different premises.
The fire service said the incidents involved occupants from a variety of backgrounds and age ranges which had made it more difficult address.
Nonetheless, a strategy including helping property owners to protect vulnerable automatic alarm points appears to have had an impact.
Only two incidents were recorded between January and March this year.