Dumfries Peter Pan house project contractor sought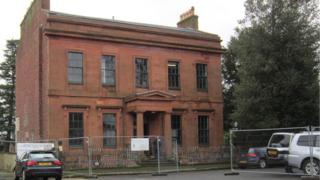 A contractor is being sought to turn a house which helped inspire the Peter Pan story into a national children's literature centre for Scotland.
It is hoped the historical Moat Brae building can be opened to the public in two years' time.
The Peter Pan Moat Brae Trust is now advertising for a contractor to deliver the multimillion-pound project.
The duration of the contract is 18 months with a closing date for applicants of 27 July.
The contractors must have experience of restoring historical buildings, including plasterwork, as well as installing bespoke play equipment.
The trust hopes the project can attract 40,000 visitors a year, contributing £1.3m to the local economy.
It should create a dozen new jobs with about another 20 created indirectly by the extra visitor spending.
Born in Kirriemuir in Angus, JM Barrie moved to Dumfries in 1873 at the age of 13 and credited the "enchanted land" at Moat Brae as helping to inspire the Peter Pan story.