Peregrine falcon eggs stolen from nest near Jedburgh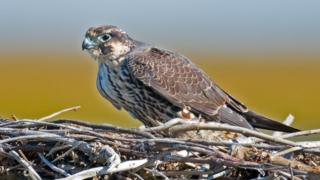 Police believe eggs stolen from a peregrine falcon's nest in the Borders were taken to be sold on the black market.
The incident happened in the Jedburgh area some time between the end of April and the start of May.
Police said they had been conducting "numerous inquiries" but were now appealing for public help.
They want to speak to anyone who has any information about the theft or spotted any suspicious activity.
PC Jamie Hood, wildlife liaison officer for the Lothians and Scottish Borders, said: "The impact that egg theft can have on our native species threatens the long term sustainability of these birds.
"We expect that these may have been stolen to be sold on the black market, and I would urge people who live and work in the countryside to be vigilant in reporting suspicious behaviour to us."