Borders flooding action plans published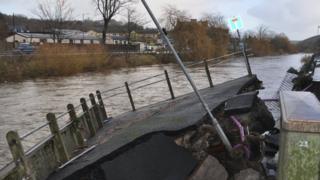 A set of "vital" plans on how to tackle the risk of flooding across the Scottish Borders has been published.
Construction of protection schemes in Selkirk and Hawick are included in the six-year programmes.
The Tweed, Solway and Forth Estuary local flood risk management plans (LFRMP) are part of a network of 14 covering the whole of Scotland.
Councillor Gordon Edgar said they could help "decisions to be made on how to best protect vulnerable areas".
Scottish Borders Council was the lead authority on the Tweed plan which covers most of the region.
It also contributed to the Solway and Forth Estuary plans.
They set out how flood risk will be "managed, co-ordinated, funded and delivered between 2016 and 2022".
The region was badly affected by flooding over the winter from Storms Desmond, Frank and Gertrude.
The repairs bill from those incidents has already been estimated at more than £3.5m.
The latest plans outline further action to try to reduce the flood risk with the full details available online or in council contact centres and libraries.