Two hurt in Selkirk Common Riding celebrations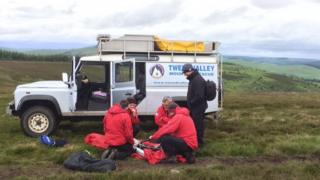 A mountain rescue team has taken two people to hospital after they were hurt during the annual Common Riding event in Selkirk.
They were among hundreds of riders on horseback taking part in the proceedings in the Borders town.
Tweed Valley Mountain Rescue team said they had both suffered "lower leg injuries" on the hill sections of the Common Riding.
They were "delivered safe" to the Borders General Hospital for treatment.
Selkirk is the latest town in the Scottish Borders to hold its traditional Common Riding, which is at least 400 years old.
It commemorates the day in 1513 when 80 men from the town left to fight for King James IV and just one returned.
The standard bearer - Rory Monks this year - represents Fletcher, the only Selkirk man, or "Souter", to return alive from the Battle of Flodden.
He leads a cavalcade riding the Royal Burgh boundaries before returning to the Market Place for the spectacular casting of the colours.