Transport secretary Humza Yousaf 'open-minded' over Selkirk bypass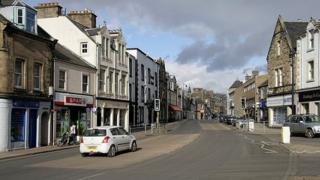 Transport secretary Humza Yousaf has said the case should be made once more for a Selkirk bypass.
After meeting with the A7 Action Group he said that previous feasibility studies had ruled out the possibility for a "variety of reasons".
However, he said it could be considered during the term of this parliament as part of a review of strategic projects.
Mr Yousaf said he would be "open-minded" about the prospect of a bypass for the Borders town.
He said the action group should make a renewed case for the project.
"I think they should be working closely with Transport Scotland officials to make that case once again for a Selkirk bypass," he said.
"I would be open-minded to that."
A number of other improvements to the A7 were discussed and Mr Yousaf said he would need "more detail" on calls to retrunk the road north of Galashiels.
"It is not in our current plans to do that," he said.
"But again they are catching me at a time when I am new into this job and I am more than happy to be as open-minded as I possibly can.
"I will enter that discussion with an open mind and with frankness and with honesty."