Great Tapestry of Scotland site switch could be 'good solution'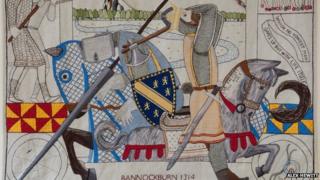 The chairman of the trustees of the Great Tapestry of Scotland has said an alternative venue for its permanent home could be a "good solution".
Alastair Moffat said they were happy to look at the possibility of housing the giant artwork in Galashiels.
It has emerged as an alternative to a purpose-built centre at the Tweedbank terminus of the Borders Railway.
A detailed report on the Galashiels location will go to Scottish Borders Council later this year.
The Tweedbank scheme - backed by £3.5m from the local authority - has been a contentious one.
Thousands of people signed a petition against the project and a working group was set up to examine how the process of planning approval being granted was handled.
The council has said the Tweedbank site has many advantages as it is close to the Borders Railway and has good bus services.
'Better prospect'
However, it is now considering another option after buildings became available in Galashiels.
Mr Moffat said it was a possibility which needed to be examined closely.
"My trustees are happy to look at that sympathetically but we don't have much detail yet, work has only just begun" he said.
"If that seems to be as good as or a better prospect then of course we will consider it."
He stressed that they would do what they felt was the best option for the tapestry.
"What everybody forgets in this process is that we own the tapestry and we will do absolutely our best for the tapestry and all of the people who made it so that is one of our principal concerns," he said.
"I think Galashiels, if it pans out, could be a good solution."