Great Tapestry of Scotland alternative home considered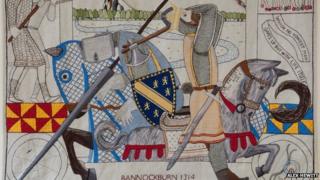 An alternative site to the Borders Railway's Tweedbank terminus is being considered as a home for the Great Tapestry of Scotland, it has emerged.
A potential permanent base for the work could be found in central Galashiels.
Scottish Borders Council is continuing to work with the Scottish government on plans for the Tweedbank site.
However, buildings which have become available in Galashiels which were not previously an option are now set to be assessed.
The Tweedbank scheme has been a contentious one in the Borders since it was first proposed.
Thousands of people signed a petition against the project and a working group was set up to examine how the process of planning approval being granted was handled.
'Open-minded'
Opponents have expressed concerns at the cost of the project - the council has committed £3.5m - and the choice of location.
The council has said the Tweedbank site has many advantages as it is close to the Borders Railway and has good bus services.
It has also pointed out that usage figures for the station have been much higher than forecast since the line opened.
Nonetheless, SBC said it was carefully assessing the Galashiels option and a detailed report would be presented to councillors in August.
That will give them the opportunity to decide whether to proceed with Tweedbank, progress with the project in Galashiels - if it proves viable - or cancel the entire scheme.
The tapestry trustees have said they are "open-minded" about the Galashiels option but said the site must be near the Borders Railway.