Eden Festival expects sell-out crowd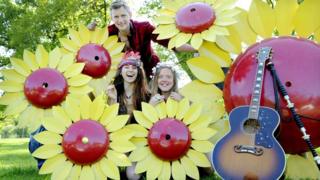 Organisers of the Eden Festival in southern Scotland say they expect a sell-out 8,000 crowd this year.
The Raehills Estate near Beattock will play host to more than 250 acts over 11 stages from 9 to 12 June.
The line-up includes headliners Morcheeba, King Charles and the Craig Charles Funk and Soul Club.
Organiser Adam Curtis said he did not want to see the festival grow much more for fear of losing what he said was its family friendly atmosphere.
"We wanted to keep it a wee bit smaller and a lot more small stages dotted around," he said.
"So you get the feeling of exploring round a small festival rather than huge big stages.
"This year we are kind of pushing on a lot more with the family friendly stuff.
"Although we have got the music as the core of the festival and the bands and everything for everyone to enjoy, we have got a lot more games stuff going on this year."
'Job opportunities'
For the first time, the festival is also using part of a £12,000 funding package from Dumfries and Galloway Council to provide three paid internships.
Mr Curtis said it was a great opportunity to experience first hand what it takes to run such an event.
The council's events champion, Colin Smyth, said the investment was playing an important role in opening up new opportunities within the festival.
"One of the positive aspects of the funding we are providing is that it is going towards the creation of three internships to learn a whole range of things around events and festivals, particularly music festivals," he said.
"We think that will help the young people that are taking part in these internships.
"There is a real market across Dumfries and Galloway when it comes to music festivals and there are job opportunities there for them.
"It is not just about handing funding to an organisation it is about tying that funding to a way that allows that event to develop positively for the region."