Police probe disappearance of peregrine falcons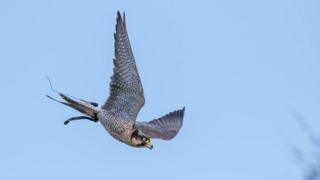 A criminal investigation has begun after the disappearance of two female peregrine falcons in Dumfries and Galloway.
Police said the birds both abandoned nests with eggs in them.
The nests were in a remote area around Dalveen near Sanquhar, and were being monitored by the Dumfries and Galloway Raptor Study Group.
Members reported their concerns to police when the birds failed to return to incubate their eggs.
Officers are working with the group and the RSPB to gather evidence in an attempt to find out what has happened to the birds.
'Good year'
PC Alan Steel said: "The fact that two nests have failed in this way does seem very unnatural and we cannot discount that this is a criminal act.
"While both sites are remote in the Queensberry Estate we do want to hear from anyone who may have any information which might help us with this enquiry."
Chris Rollie, RSPB Scotland area manager, said it was not the first time female peregrines had disappeared from the area.
He added: "In other parts of the region, peregrines seem to be having a good year and are perhaps benefitting from the good weather of late.
"Sadly, this is not the case at Dalveen."