Borders mountain biker saved after heart attack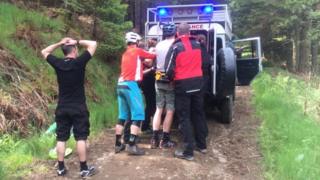 A competitor in a mountain bike event near Peebles has been rescued by helicopter after suffering a heart attack.
The man, who has not been named, was attended by an event marshal and other competitors.
But it is thought he was saved by the use of a defibrillator.
It was brought to the scene by members of the Tweed Valley Mountain Rescue Team (TVMRT) within four minutes of the man collapsing on Saturday.
An air ambulance took the casualty to the Royal Infirmary of Edinburgh, where he was later said to be "doing well".
TVMRT leader Pete Matthews said: "I'm extremely proud of how the TVMRT members reacted to the incident today.
"All members of the team train hard to deal with a number of potential scenarios and it's great to see that our medical and incident management training kicked into play today."
Team medical officer Dr Alex McDonald said: "Today's incident shows that a combination of basic life support training and having early access to an AED makes a real difference in the short time period after a casualty suffers a cardiac arrest."