Scottish Borders Council number cut proposal 'disappointing'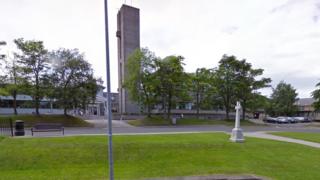 The Scottish Borders Council leader has said it is "disappointing" that the Local Government Boundary Commission has advised cutting councillor numbers.
The move would see the figure drop from the current 34 to 32.
David Parker said the local authority had called for representation to be kept at its present level.
Neighbouring Dumfries and Galloway Council would also see councillor numbers fall under the recommendations - from 47 to 43.
The Local Government Boundary Commission for Scotland has submitted its recommendations on councillor numbers and wards for each of Scotland's 32 council areas to Scottish ministers.
Nationwide, they would see average ward numbers fall by two and councillor numbers by four.
Mixed response
The commission said representation of the electorate within council areas would be "more evenly shared between councillors" under the plans.
However, the proposals have received a mixed response in the Borders.
"It is pleasing that the commission has listened to requests from the council in May 2015 and the public and recognised the historical ties that Newcastleton and Hornshole have with Hawick," Mr Parker said.
"However, it is disappointing that the commission has retained its recommendation to reduce the number of councillors in the Scottish Borders from 34 to 32, despite calls from SBC on 25 February 2016 to keep the current figure."
A report on the issue will go to the council on 29 June.
Mr Parker said that would allow the local authority an opportunity for further comments before Scottish ministers make their final decision.
Dumfries and Galloway Council leader Ronnie Nicholson said there had been cross-party support to challenge the proposals which he said were "completely flawed".
"I think the fact that they refused to even hold a local inquiry to allow local people in the area to have their views heard and put forward alternatives to the flawed proposals shows the weakness in the commission's plans," he said.
"If the council objected to a parliamentary boundary proposal, there would be a local inquiry.
"But local government as usual is treated as second class citizens and the objection has been ignored with no opportunity for local people to properly have their say at an inquiry."
He said some of the new wards would cover "huge geographical areas" and showed "contempt for local community links".
"They will mean local councillors are even most distant from the communities they represent and that's bad news for local communities," he said.
"The commission's flawed plans across Scotland have been roundly condemned by councils but the commission aren't prepared to listen and it is likely that these plans will simply be passed to government ministers to be rubber stamped."