Earlston education centre name suggestions sought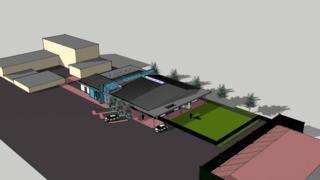 Suggestions are being sought for the name of a new additional support centre for primary pupils with profound and complex needs in the Borders.
The site in Earlston is scheduled to open in 2017.
Scottish Borders Council is holding consultations in May and June to provide families with more information.
The local primary and secondary as well as the wider Earlston community will also be involved and allowed to give "input" on the new centre's name.
The council said the building would provide a "first class learning environment for children with complex and profound needs from across the Borders".
Councillor Sandy Aitchison encouraged everyone given the chance to take part in the consultation.
"The naming of the new centre will be an important and symbolic part of the process ands again, input from people who will be benefiting from the new service will be welcomed," he added.
"In 2013 we acknowledged the need to develop a specialist education and care centre for children with complex needs here in the Borders, including one that would help us to reduce the number of children who have to travel outwith the area to have their learning needs met.
"We were also acutely aware that the accommodation provided in facilities at Hawick and Innerleithen were far from ideal."
Public feedback will be incorporated into formal statutory consultation papers that will be brought to a meeting of the council's executive in August.