Mars mission for dark sky sites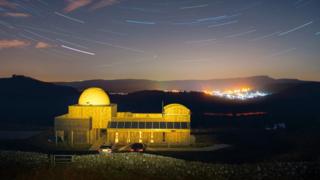 Three Scottish sites which have achieved dark sky status hope to see a surge in visitors when Mars is at its closest to Earth in over a decade.
The two planets will be "just" 46.8m miles (75.3m km) apart on 30 May.
The Galloway Forest Dark Sky Park, the Dark Sky Island of Coll and Dark Sky Town of Moffat are recognised as good places to study the sky at night.
VisitScotland said the sites were among the "best places to enjoy the beauty of the cosmos."
A recent report estimated that the Galloway Forest was generating an additional £500,000 over the winter months from dark sky tourism with the expectation for that to rise to about £1m.
The site, which straddles East Ayrshire and Dumfries and Galloway, boasts an observatory which should further improve views of the Red Planet.
Keith Muir, of Forestry Commission Scotland, which owns the park, said: "The Dark Sky Rangers are now in place and beginning to get some trade and more local accommodation providers are being affected by the increase in astro tourism.
"Even the increase in the number of dark sky places has assisted in the numbers with all the local events being either full or oversubscribed.
"There is still work to do and opportunities to be taken, but this takes time, resources and willingness to be part of it by the local tourism businesses."
Moffat is the most recent Scottish addition to the list of officially-designated dark sky sites having achieved the status earlier this year.
Councillor Colin Smyth said he hoped it would encourage more visitors to the region and help boost the economy.
Julie Oliphant, owner of the Coll Hotel and a member of Coll Dark Skies Group, said the status was an "added draw" particularly in the low season.
"The dark skies above Coll will stop you in your tracks," she said.
"They really are awesome, even if you don't know what you're looking at.
"We have a telescope in the hotel and there are sky maps in all our rooms. You can't help but be amazed."
Malcolm Roughead, chief executive of VisitScotland, said events like the Mars "close approach" could have a significant economic impact.
"Having dark sky status is a real draw for visitors, with accommodation and transport providers, food and drink outlets and all manner of other tourism businesses benefiting as a result," he said.