Crocodile and cobra licences granted by Scottish councils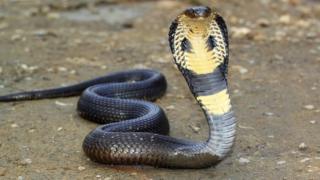 Crocodiles, cobras and elk are among hundreds of dangerous animals being kept legally on private properties in Scotland, it has been revealed.
The Press Association found the details via a freedom of information request.
Eleven Scottish councils responded and listed the animals they had granted licences for in their area.
Dangerous wild animals (DWA) licences allow people to keep undomesticated animals as pets, subject to safety measures and a small fee.
The Scottish councils which responded, and the animals involved, were:
Aberdeenshire Council - three bison, two capuchin monkeys, one ostrich, one serval cat, 45 Bengal cats, one caracal cat, four Asian leopard cats
Aberdeen City Council - one cobra, one rattlesnake, four beaded lizards
East Ayrshire Council - 13 wild boar
East Lothian Council - 200 wild boars
Fife Council - two rattlesnakes, two cobras, one taipan, one death adder
Highland Council - three wild boar (four allowed)
Moray Council - four serval cats and eight Savannah cats
North Lanarkshire Council - two caimans, two American alligators, two Nile crocodiles, two dwarf crocodiles, two rattlesnakes, two cobras, seven vipers, five gila monsters
Perth and Kinross Council - seven Preszwalski, 36 mouflon, six bison, 35 wild boar, two elk, two Savannah cats, one serval cat
Scottish Borders Council - 14 black and white ruffed lemurs, six ring-tailed lemurs
Stirling Council - 56 wild boar
The Scottish SPCA said it was important anyone keeping such an animal knew how to keep them and could afford to do so.
Ch Supt Mike Flynn said: "There is a licensing regime in place which is run by the local authority for species listed under the Dangerous Wild Animals Act.
"The local authority would usually involve a vet who has specialist knowledge of the particular species requiring the licence.
"As with any animal being kept as a pet, owners should have the knowledge and resources to ensure the animal's welfare."