Calvin Harris injured in Los Angeles car crash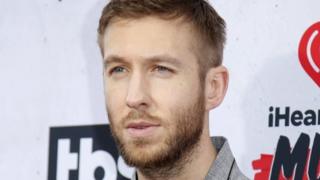 Superstar DJ Calvin Harris was taken to hospital in the United States after being injured in a car crash.
He was a passenger in a Cadillac in Los Angeles when it collided with a Volkswagen Beetle at about 11:00 local time on Friday, according to celebrity news website TMZ.com.
It reported that Harris, who is from Dumfries, suffered a cut in the incident.
He had to pull out of a performance at the Omnia nightclub in Las Vegas.
A statement on the artist's official Facebook page said: "Adam's transport was involved in a collision this evening on the way to the airport.
"As a result he will be unable to perform at Omnia tonight.
"He has been examined by doctors and told to rest for a few days - Calvin HQ."
The Beetle was reportedly driven by a 16-year-old girl and had crossed the centre line before the crash.