Hopes high of Borders Railway steam train return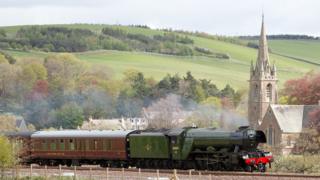 Scottish Borders Council says it is "really hopeful" more steam train trips will follow the Flying Scotsman's visit to the region at the weekend.
Large crowds gathered on Sunday to watch it travel on the Borders Railway.
Councillor Stuart Bell said they hoped to see steam trains return to the route in the late summer.
He said that could build on the success of the Flying Scotsman and previous excursions along the Edinburgh to Tweedbank line.
Mr Bell said final negotiations still had to take place between Network Rail and the Borders Railway Blueprint group which represents a wide range of interested parties.
However, he said he was optimistic those could lead to more historic trains on the route.
"We are not just celebrating the success of the Flying Scotsman visiting the Borders this weekend but also the superb success of the steam excursions that were run on the railway through September and October last year," he said.
"We are really hopeful to be in a position to replicate those sell-out excursions."