New police commander for Lothians and Scottish Borders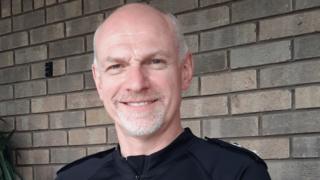 A new divisional police commander has taken up his post covering the Lothians and Scottish Borders.
Ch Supt Ivor Marshall takes over from Ch Supt Gill Imery who has been seconded to Her Majesty's Inspectorate of Constabulary Scotland.
The new commander started with Dumfries and Galloway Constabulary before moving to the old Lothian and Borders force.
He said it was a "pleasure and a privilege" to have been appointed to his new role.
"From previous personal experience, I know that there are very strong partnerships right across the division that have been developed over many years," he said.
"I am looking forward to strengthening those close working relationships in the months and years ahead."
He said he was confident the division would deliver "positive outcomes".
"We will be relentless in our prevention and detection of crime, we will be resolute in protecting citizens from harm, and we will be proactive in promoting the wellbeing of everyone who lives in or visits the Lothians and Scottish Borders," he added.
"Having the support of local communities is vitally important to our work so we will ensure that our values of integrity, fairness and respect sit at the heart of all that we do so that we maintain the trust and confidence of the people we serve."