Selkirk dog honoured for blizzard rescue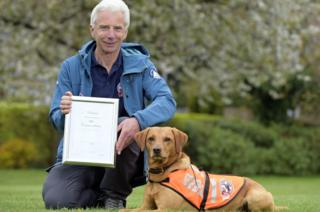 A charity has honoured a rescue dog from the Borders after it helped find a critically-injured missing woman in blizzard conditions.
Rauour - a three-year-old Labrador - works with the Tweed Valley Mountain Rescue Team.
He has been commended by vet charity PDSA for his part in a rescue operation in January 2015 near Innerleithen.
The PDSA's John Faulkner said Rauour's story epitomised the "value that animals bring to our lives".
The commendation is part of the charity's animal awards programme and Rauour - whose name means "red" in Icelandic - is the 88th recipient of the award.
He was presented with the honour by Mr Faulkner at the TVMRT's Melrose base.
It followed an operation in January last year when the rescue team was called out to find a missing person at "considerable risk".
A Met Office amber weather warning was in place and blizzard conditions had already set in around the Innerleithen area.
A couple of hours into the operation, Rauour and his handler, John Romanes, were dispatched to search an area on Leithen Water.
The dog immediately started searching deep inside a thick conifer forest and quickly found the casualty - a woman trapped in the hole of a tree root, with only her legs visible.
She was unconscious and suffering advanced hypothermia. A Royal Navy helicopter was called to the hillside, to airlift her to hospital.
'Absolutely vital'
Mr Romanes said: "Rauour's detection skills really came to the fore that night.
"His role as an air scenting search dog was more effective than a 20-strong team performing a line search on the ground.
"Without him finding the casualty when he did, the outcome could have been very grave indeed."
Mr Faulkner said there was "no doubt" that without Rauour's actions the situation would have been "very different".
"The work of search and rescue dogs across the country is absolutely vital - their skills are priceless and Rauour's story serves as a reminder of just how lucky we are to have these dogs here to help us," he said.