Dumfries and Galloway area among 'safest in Scotland'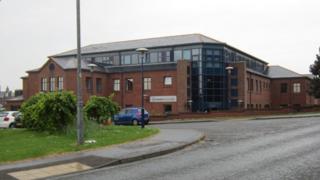 Inspectors have said Dumfries and Galloway police have a "strong sense of local identity" and provide an "efficient and effective service".
Crime rates in the region are among the lowest in the country while detection rates are the highest.
HM Inspector of Constabulary in Scotland also noted a fall in deaths or serious injuries in road crashes.
However, it highlighted an increase in all categories of offences - apart from serious violent crimes.
HM Inspector of Constabulary Derek Penman said: "The trends in Dumfries and Galloway mirror the long-term trends across the country of decreasing crime and rising detection.
"Although there are signs these positive national trends may be slowing or reversing in Dumfries and Galloway, the area is still one of the safest in Scotland in which to live and the likelihood of offenders being brought to justice is greater there than in most other areas.
"The communities across Dumfries and Galloway should be assured that the division is aware of the issues and is taking steps to address them."
'Key findings'
The inspection is the latest in a rolling programme across all 13 local policing divisions of Scotland.
It noted a number of "key findings" in the region, including:
it is the only division in Scotland to have recorded a reduction in complaints
its small size supports "visibility and openness" between leaders and staff
use of social media is helping to reduce calls to police service centres
the closure of the local control room has presented "some challenges"
the provision of specialist support is perceived by some to "overlook local skills"
the rural nature and size of the division present "significant challenges" in meeting community expectations.
A number of recommendations to improve the service have also been made.
They call for a review of scenes of crime examination call-out processes to be completed "at the earliest opportunity".
The sustainability of the division's specialist support operating model is also to be examined.
Ch Supt Gary Ritchie, commander for the Dumfries and Galloway Division, welcomed the report and its recognition of the "positive progress" in the region.
'Strong example'
He highlighted the areas of good practice - such as a road safety initiative among older drivers - noted by inspectors.
"We will continue to be innovative and creative in our approach to make sure that people get the service they need when they need it," he said.
He thanked everyone who contributed to the inspection process.
"The report serves as a strong example of what can be achieved when local agencies and communities share the commitment and work hard together to improve the quality of life of an area," he said.
Councillor John Syme, who chairs the region's police committee, said keeping the community safe was a council commitment.
"This excellent report about local policing provides evidence that Dumfries and Galloway is one of the safest places in Scotland to live," he added.