Dumfries and Galloway music tuition charge move criticised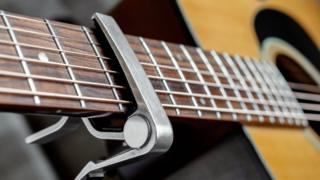 Hundreds of people have signed a petition against plans to end free music tuition in Dumfries and Galloway schools.
Educational Institute of Scotland branch secretary John Dennis said it could be a barrier to children taking up an instrument.
Education committee chairman Jeff Leaver said he was also disappointed.
However, he claimed the council had no option given the scale of savings it needs to find this year.
Mr Dennis said that while there would be exemptions from the charge, the local authority needed to rethink the move.
He said it went against the council's agenda of "closing the gap" between those from "better off" backgrounds and those in less affluent circumstances.
"They will say that if you are entitled to free school meals then you get music tuition for free," he said.
"But the problem is that this part of Scotland is, by and large, a fairly low wage economy.
"A lot of families have an income that is just a bit above the free school meals entitlement level and a lot of them are going to really struggle to pay £200 a year for music tuition."
Rural area
Mr Leaver said he accepted the cost would be hard to meet for some low wage households but said an exemption policy was the only realistic option.
"We do need to have some way to identify who shouldn't pay charges and what we have done is looking at free school meals," he said.
"In other areas they look at areas of multiple deprivation but in a rural area like Dumfries and Galloway many of our youngsters from poorer families - in fact the vast majority of them - don't live within areas of multiple deprivation.
"Therefore, what we do is use the qualification for free school meals as our threshold.
"I am disappointed that we do have to put a threshold in - that we do have to charge - but I'd like the EIS to tell us where the threshold should be in that case."