Stena Line Cairnryan harbour valuation taken to tribunal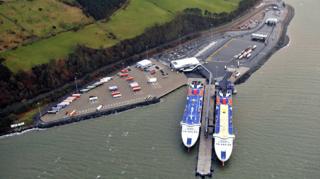 Ferry operator Stena Line is contesting the £1.25m rateable value set on its Cairnryan ferry port claiming it could compromise future site investment.
An appeal against the Assessor for Dumfries and Galloway will go to the Lands Tribunal for Scotland in July.
The company claimed the new rate was "effectively double" what it paid at its old site in Stranraer.
Assessor Keith Mossop described the hearing as "really just a procedural matter."
Stena Line moved its operations to the site in 2011 after it left its facilities in nearby Stranraer.
It said it had been in "protracted negotiations" in relation to the rates assessment at the new port.
"Stena Line made a significant investment (in excess of £80m) when it opened its new state-of-the art ferry port and terminal at Cairnryan in 2011 to replace its former Stranraer facility," said a statement.
"Despite this investment, designed to provide south west Scotland with a modern freight and tourism gateway, the council has assessed Stena Line for its non-domestic rates for the new port at a rate effectively double that of its former facility.
"Stena Line is concerned that this significant additional running cost may impact upon future investment at Loch Ryan Port."
'Complex case'
The company said it had received political support and had engaged senior counsel for its appeal.
Mr Mossop said it was not unusual for non-domestic rate cases to be dealt with this way.
"I fix a valuation and they are allowed to appeal it if we cannot reach agreement," he said.
"In complex cases like this it can go straight to the Lands Tribunal.
"It is really just a normal, run-of-the-mill Lands Tribunal."