Edinburgh man jailed over Selkirk pub cannabis farm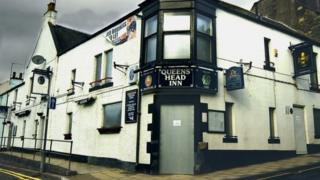 An Edinburgh man who cultivated cannabis with a street value of £1.6m in a disused Borders pub has been jailed for five years and 11 months.
Bartosz Gloskowski, 23, was caught because a passer-by recognised the pungent smell coming from the building.
He admitted producing cannabis at the Queens Head Inn in Selkirk between March and October 2014.
Gloskowski also admitted that the offence was aggravated by a connection to serious organised crime.
Jailing him at the High Court in Glasgow judge Lord Matthews said: "Had this matter gone to trial I would have jailed you for eight years."
Defence counsel Matt Jackson said that Gloskowski, of West Granton Road, was a first offender and added: "It is unlikely he will re-offend."
Mr Jackson said: "He is an extremely charismatic young man who has made a terrible choice in life."
'Overpowering smell'
The court had previously heard how Gloskowski had rented a flat above the Queens Head and began growing the plants.
Police were sent to check out the area after a woman phoned to say she had noticed the smell of cannabis and it was growing stronger.
She told police she believed that someone was growing cannabis plants.
When officers arrived, they could smell the drugs from the street and there was an "overpowering smell of cannabis" when they entered the property.
'Good result'
A search revealed that, using the attic space, the flat next door and the disused pub could be accessed.
Nearly 2,000 cannabis plants were recovered and experts said the maximum street value of the drugs obtained would be £1,660,000.
Det Sgt Alan Young, who was the senior investigating officer, said the case was an "excellent example" of how important information from the public could be.
"This amount of cannabis was on an industrial scale, and the effect that this could've had on the community can't be underestimated," he said.
"So it's not only a good result for our team and Police Scotland, but also for those living in the surrounding areas.
"The swift response from our officers proves we take all information relating to drug crime seriously, and will act quickly to target those responsible."