Warmest day of the year in Scotland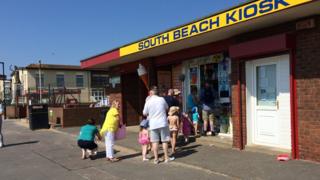 The Met Office has said Monday was the warmest day of the year so far recorded in Scotland as temperatures rose in the west and southwest.
The Isle of Skye reached 26.7C (80F) on what was likely to be the warmest day of a "warm period". West Freugh in the south west hit 24C (75.2F).
Scotland's monthly average maximum May temperature - based on data from 1981 to 2010 - is just 12.97C (55.3F).
The hottest May temperature stands at 30.9C (87.6F) at Inverailort in 2012.
The previous warmest day of the year recorded so far in Scotland was Sunday with 22.5C (72.5F) in Kirkcudbrightshire.
However, that was surpassed on Monday in a number of parts of the country.
Temperatures are forecast to remain high for the time of year in western Scotland until Friday, when it is expected to return closer to the monthly average.
The clear skies over Scotland were visible from space and captured in an image tweeted by British astronaut, Tim Peake.
His tweet said: "Scotland, Northern Ireland and Isle of Man looking good this morning!"