Dumfries seagull egg and nest battle resumes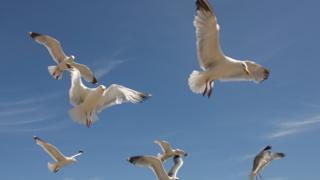 A council-run service to remove seagull eggs and nests from homes and businesses in a south of Scotland town has resumed.
It is being offered to properties in Dumfries and nearby Heathhall.
Dumfries and Galloway Council said it needed the permission of the property owner to remove the eggs and nests.
The first nests will be removed in the middle of May and up to four visits may be required to tackle the issue during the breeding season.
Dumfries has long-standing problems with gulls swooping on members of the public and stealing food.
Reducing numbers
The nest and egg service has been offered for a number of years.
The Urban Gull Taskforce - which independently monitors the population - estimates the rearing of young gulls has reduced by an average of 86% each year since 2009.
The public has been advised that it is illegal to capture, injure, poison, shoot or kill gulls or to interfere with their eggs or nests without a licence from the government.
However, the council said property owners could take a number of steps to stop the birds nesting or scavenging.
They include:
fitting spikes to locations likely to be used for nesting
fitting wires or nets to prevent gulls landing
avoiding feeding gulls
keeping takeaway food out of sight
disposing of food waste appropriately