Holyrood 2016: Conservatives savour southern success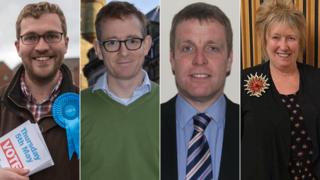 The Conservatives have taken three of the four Scottish Parliament constituencies covering Dumfries and Galloway and the Scottish Borders.
Oliver Mundell took the Dumfriesshire seat from Labour while Finlay Carson held Galloway and West Dumfries.
Ettrick, Roxburgh and Berwickshire was held by John Lamont.
The Midlothian South, Tweeddale and Lauderdale constituency was the last in Scotland to declare and was held by the SNP's Christine Grahame.
The Dumfriesshire seat previously belonged to Elaine Murray for Labour who represented the area for 17 years.
However, her vote fell sharply, allowing Mr Mundell to win and Joan McAlpine for the SNP to take second place. Ms Murray was third and Richard Brodie for the Lib Dems a distant fourth.
"I think people here in Dumfriesshire feel that this is a forgotten region," said Mr Mundell.
"They feel we have had scraps from the table across the last nine years of SNP government.
"They want to see key local projects taken forward and I very much hope we will be able to welcome John Swinney to this constituency as promised before the election to deliver on that transport summit."
Ettrick, Roxburgh and Berwickshire was a comfortable hold for Conservative Mr Lamont who secured more than 55% of the vote.
The SNP's Paul Wheelhouse was second with Lib Dem Jim Hume third, and Barrie Cunning of Labour fourth.
"I am very pleased - very pleased to have secured such a large increase to my majority," said Mr Lamont.
"An increased majority is not what I expected. I thought it would be tight but I think people were faced with a very stark choice and they made their decision.
"I think many Liberal Democrats who realised their party did not have any prospect of winning here decided to vote for me tactically - partly because they recognised that I had worked hard for the area but also because they did not want a one-party state."
Galloway and West Dumfries was the seat vacated by Conservative Alex Fergusson who announced he was standing down before this election.
He had a narrow majority of just over 800 ahead of the SNP.
Mr Carson was able to extend that to more than 1,500 ahead of Aileen McLeod for the SNP, Labour's Fiona O'Donnell and Andrew Metcalf for the Lib Dems.
"I am absolutely delighted," said Mr Carson. "Throughout the campaign I thought we were going to do very well.
"Our vote was always very strong but there was a definite move away from the SNP.
"I am just delighted that the people of Dumfries and Galloway have put their trust in me - my local credentials have stood up."
---
Analysis: Giancarlo Rinaldi, BBC news website south Scotland reporter
A stripe of blue has been painted across the political map of Dumfries and Galloway and the Borders.
Regions which have returned candidates from all four major political parties to Holyrood and Westminster in the past gave the Conservatives a big thumbs up in the constituency vote.
It was perhaps no shock that John Lamont defended a large majority but the scale of his victory was still impressive.
More surprising, however, were Finlay Carson's defence of Alex Fergusson's seat and Oliver Mundell's success - both in constituencies the SNP had high hopes of taking.
There was plenty of consolation for the Nationalists, of course, with Christine Grahame's triumph and three list MSPs.
Labour also grabbed two south of Scotland regional seats but there were two more for the Conservatives completing a memorable night for the party.
The Lib Dems, once a major force in the Borders, were completely locked out.
---
In Midlothian South, Tweeddale and Lauderdale the SNP's Christine Grahame was defending her seat.
She won by nearly 6,000 from Conservative Michelle Ballantyne who increased her party's share of the vote by more than 16%.
Fiona Dugdale for Labour was third with Lib Dem Kris Chapman in fourth.
Ms Grahame said: "I am thrilled and I am also thrilled because I have put up my vote by 1,000 votes which shows, I hope, that the people of Midlothian, Tweeddale and Lauderdale think I have done a good job.
"There are advantages of being the incumbent but there are difficulties - you have got to defend what you have done."
She said the Borders Railway had made a "huge difference to the central Borders" but she was "always mindful" that that was only one part of the constituency.
List results
The South of Scotland list saw a further seven MSPs elected.
The SNP took three of those seats with Joan McAlpine, Emma Harper and Paul Wheelhouse. Two went to Labour's Colin Smyth and Claudia Beamish with the Conservatives' Rachael Hamilton and Brian Whittle also successful.
A number of constituency candidates also missed out on the regional list - they included SNP environment minister Aileen McLeod, Conservative Michelle Ballantyne, Labour's Fiona O'Donnell and Fiona Dugdale and Lib Dems Richard Brodie and Andrew Metcalf.