Crews win fight with wildfire between Barrhill and Newton Stewart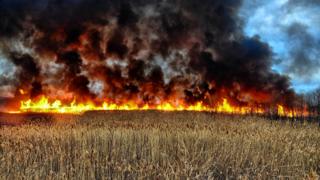 Fire crews fought for more than five hours to bring a large wildfire under control on rough terrain in south west Scotland.
The incident happened between Barrhill in South Ayrshire and Newton Stewart in Dumfries and Galloway on Tuesday.
About 15 firefighters put out the flames after the outbreak which started about about 13:20.
The Scottish Fire and Rescue Service said the incident had been brought under control by 18:30.
At its peak metre-high flames burned across more than 600m of grassland as crews fought to protect a nearby forest.
Firefighters used handheld beaters and a high pressure jet to tackle the fire.
Devastate wildlife
The incident is not thought to have been deliberately started but SFRS said it was clear it needed the public's help to reduce the number of wildfires that do strike.
It said dry conditions at this time of year could easily result in wildfires that damaged the environment, devastated wildlife habitat and threatened homes and businesses.
"The public can help prevent wildfires by making sure they dispose of litter and smoking materials carefully while in rural areas," said a statement.
"There are a number of things land managers can do to help prevent wildfires, including strict adherence to the Muirburn Code, which applies to the controlled burning of heather within the permitted season.
"Anyone who sees someone acting suspiciously, recklessly or irresponsibly in the countryside should contact Police Scotland on 101."