Dumfries and Galloway tourism income target set at £330m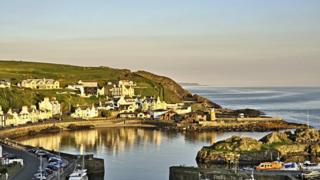 An updated tourism strategy for Dumfries and Galloway is aiming to raise revenue from the sector from £300m to £330m in the next four years.
The council hopes to help achieve the goal by extending the season and increasing visitor numbers.
It said that, in turn, could lead to increased employment in the area.
Consultants who studied the sector said businesses needed to support one another and customer service had to be a priority for the strategy to succeed.
Alan Rankin, of Coigach Consulting, said: "It is looking at building the product and the customer experience.
"The foundation to it is about business capabilities, digital skills, customer service skills, better marketing and better marketing research that can advise a better, smarter industry."
He said the region had a lot to offer.
"If you look at Dumfries and Galloway, it has the coastline, the marine tourism opportunities," he said.
"Inland it has got fantastic adventure, nature-based tourism.
"I think the real challenge for the industry is to get together, to collaborate and work closer together to increase the customer service and experience in the area."