Sailor jailed over fatal ferry crash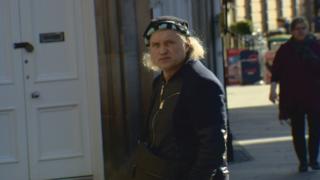 An Italian sailor who caused the death of a teenage fisherman off the coast of the Scottish Borders has been jailed for eight months.
Pasquale Miccio, 48, was in charge of the Scottish Viking ferry when it collided with a fishing boat off St Abbs Head in August 2010.
Daniel McNeil, 16, from Tynemouth, drowned in the incident.
Miccio, from Sorrento, had previously admitted failing to change the ship's course to avoid the collision.
He was handed a jail term at the High Court in Edinburgh.
The court had previously heard he was "profoundly sorry" for causing the teenager's death.
Miccio's defence advocate, Dorothy Bain QC, urged judge Lord Bannatyne not to jail her client.
'Dreadful tragedy'
She said he was a first offender and that the law allowed the judge to impose a fine.
However, Lord Bannatyne said the offence was so serious that he had no other option but to send him to jail.
Passing sentence, the judge said the maximum sentence available to him was two years.
He said: "Your failures and omissions resulted in the death of Daniel McNeil, who at the relevant time was aged 16.
"What happened on that day was a dreadful tragedy which resulted in this young man dying at a very early stage of his life.
"His family have been deprived of a much-loved, cherished son and brother. They have undoubtedly been left devastated at their loss."
He said it was impossible for the court to do anything to ease the suffering the family had experienced.
"It appears to me that your grave failings and omissions were the primary cause in this collision," he said.
"I have also concluded that the imposition of a custodial sentence is the only option available to me."
Mr McNeil's family welcomed the verdict.
Outside the court, his father Donald said: "We're glad it's a custodial sentence because that allows the sea to be safer for a while."
'Certainly avoidable'
Miccio, who was originally charged with culpable homicide, pleaded guilty to breaching the 1995 Merchant Shipping Act at the High Court in Glasgow last month.
Maritime and Coastguard Agency enforcement officer Allan Marsh, who was in charge of the investigation into the incident, described it as being one of the worst collisions he had encountered in his career.
"It was so bad because there were several opportunities for the ship to avoid the collision," he said.
"These opportunities were not taken. The collision was most certainly avoidable.
"We're never going to know why this happened because Mr Miccio never gave an account explaining his actions. "