Dumfries and Galloway taxi service review nears destination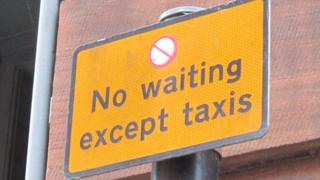 A plan to increase "civic pride and confidence" in taxi services in Dumfries and Galloway aims to be completed by the summer.
A dress code, a "knowledge" test of local routes, stricter medical standards and encouraging the use of in-car CCTV are among the proposals.
Talks over the plans will be held with the trade next month.
Dumfries and Galloway Council hopes to make a decision on the way forward at a meeting on 16 June.
A panel has been created from a wide group of representatives, from a range of organisations, to draw up the proposals.
Its recommendations include:
compulsory signage on vehicles
customer care conditions to avoid discrimination
extra assistance for passengers with a disability
permission for advertising on vehicles
It has also decided against the introduction of prescribed taxi meters or any restrictions on vehicle age as long as they comply with inspections.
Willie Taylor, service manager for licensing at the council, said: "We are looking forward to meeting with the trade to discuss the proposals openly and constructively.
"The aspiration of the review is that the taxi and private hire fleet and their drivers provide a safe, fair and customer-focused service which inspires civic pride and confidence within the local communities and gives an excellent first impression of Dumfries and Galloway to those visiting our area."