Rustling alert after £60,000 sheep raid near Moffat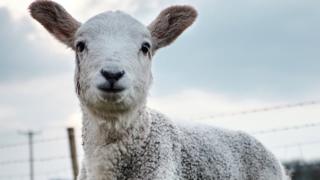 NFU Scotland has urged farmers to be on their guard against rustlers after about 450 sheep were reported stolen from a hill farm near Moffat.
The in-lamb Cheviot ewes, worth about £60,000, were taken between 10:00 on Sunday and 10:30 on Monday.
Farmers have been asked to check on their livestock regularly as organised criminals targeting agricultural land becomes an "increasing problem".
Police are appealing for witnesses to the theft to contact them.
They said "large vehicles" would have been needed to move the animals from the land near the Grey Mare's Tail.
NFU Scotland asked farmers and members of the public to report any suspicious activity, noting down registration numbers and descriptions where possible.
'Remain vigilant'
Gemma Thomson, the union's legal and technical policy manager, said: "The frequency and scale of sheep rustling in Scotland seems to be on the increase.
"The logistics involved in a theft of this scale would suggest that this was pre-meditated, which is worrying for the industry.
"We urge farmers to be on their guard and check their flocks more regularly than they normally would.
"We must remain vigilant and be aware of what's going on around us, reporting anything suspicious to police as soon possible."