Stranraer taxi drivers offered drugs advice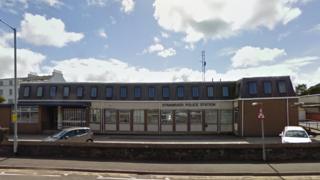 Taxi drivers in Stranraer have been offered drugs advice in order to avoid "unwittingly" putting themselves at risk of prosecution.
Police said it followed a number of incidents in the town.
They arranged an "informal meeting" with taxi and private hire drivers to discuss the issue.
They were given advice on the "tell-tale signs" of substance abuse as well as other situations where they could offer vital help to police.
Insp Stewart McColm said: "We thought it might be beneficial to arrange a quick chat with local drivers to raise some awareness and answer any questions people might have."
PC Hayley Buchanan added that they did not want people falling foul of the law through "lack of knowledge".
"It's not mandatory training, but I am sure that it will be beneficial to those that are willing to give up a wee bit of their time to attend," she said.