Hawick river dredging calls dismissed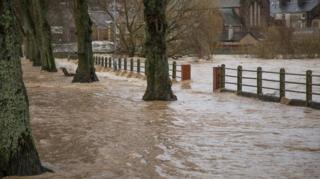 Scottish Borders Council has decided not to dredge gravel from Hawick's rivers despite residents calling for the work to help tackle flooding.
A report to the local authority described the move as "ineffective, uneconomic and unsustainable".
Council leader David Parker said he was aware of the calls for dredging but said scientific advice was against it.
Hawick councillor Watson McAteer disputed that view and said many residents would also disagree.
The report outlined the cost of repairing the damage caused by recent severe winter weather in the Borders which has already reached £1.6m.
It also looked at the possibility of dredging as a way of reducing problems in future.
However, it found that the bill to carry out the work on the River Teviot alone could amount to £1.5m and would not "substantially reduce" the flood risk.
Mr Parker said that expert advice suggested it was not worthwhile.
The problem we have got here is that there has been a lack or no river management over the last few years
Hawick Flood Group
"Engineers are saying that dredging or gravel extraction on a mass scale isn't something that they would recommend taking forward," he said.
He said that view was based on advice from the Scottish Environment Protection Agency and a "range of scientific experts".
"The argument, basically, is you spend a lot of money removing the gravel and the gravel just accumulates again as quickly as it did previously," he said.
"You take it out but it just comes back and therefore it is unsustainable and actually it doesn't have a big impact on flooding is the scientific assessment."
Mr McAteer said he still believed dredging should be considered.
'Whole story'
"I'm well aware of the scientific approach to the river management," he said.
"The problem we have got here is that there has been a lack of or no river management over the last few years."
He said the build-up of gravel was "very obvious" to anybody living near the river or affected by the flooding.
"They can see with their own eyes what is happening with the river," he said.
"So, while I respect the science, I have to say I don't think in this case that it actually tells the whole story."