Melrose fire station overhaul moves forward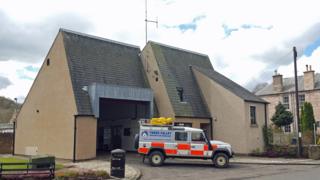 Plans to overhaul a former fire station in the Scottish Borders have moved closer after a mountain rescue team took ownership of the site.
Tweed Valley Mountain Rescue Team - supported by St John Scotland - will renovate the premises in Melrose.
It will create a new team base to replace its current Selkirk home, which has become too small.
The Melrose site will provide a garage, administration facilities, a training room and welfare area.
Pete Matthews, TVMRT team leader, said it was delighted to take ownership of the building.
'Life-saving work'
"The building will be a fantastic asset for the team and greatly enhance the capacity of our volunteers to assist those in need," he said.
"We believe this is a great opportunity to promote the work done by both of our organisations in serving our communities."
Maj Gen Mark Strudwick, of St John Scotland, said it had been happy to fund the purchase and renovation of the site.
"This will be the 14th base that St John Scotland has provided for mountain rescue since 1998, and it will significantly enhance the team's ability to train for and respond to rescue operations in the Borders area and more widely as required," he said.
"As Prior, I am very proud that we can continue to support this vital life-saving work in this way, and I look forward to seeing the building in its fully-refurbished state later this year."