Dumfries and Galloway stop-and-search success highlighted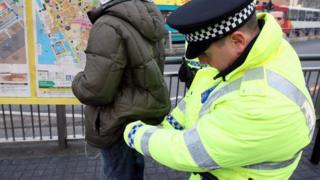 Police in Dumfries and Galloway have said their stop-and-search success rate is among the highest in Scotland.
A report to the council said that just over one third resulted in offences being detected including the recovery of drugs, weapons or stolen goods.
It said that issues encountered in other parts of the country "appeared not to be of concern" in the region.
The figures are contained in the latest police report to Dumfries and Galloway Council.
It highlights a range of areas where performance has gone up and down compared with the previous year.
It includes:
a 50% reduction in attempted murders
a rise in the detection rate of robberies along with a fall in their total number
a 20% increase in common assaults
a "substantial rise" in vandalism
an 11.7% increase in house break-ins
The report also flags up "mixed performance" in improving safety on the region's roads.
The number of people killed has risen to 12 in 2015/16 so far compared with eight over the same period in 2014/15.
There has, however, been a sharp decrease in the number of people seriously injured.
Speeding offences have also risen but dangerous driving, failing to use seat belts, drink or drug driving and using a mobile phone while driving have all fallen.