Ecclefechan murder: Andrew Brown's jail term cut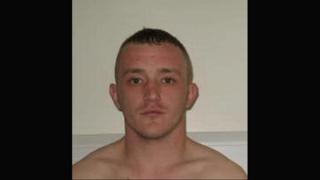 A killer who carried out a "frenzied revenge attack" in southern Scotland has had his 20-year term cut to match that of the friend jailed with him.
Judges at the Court of Criminal Appeal ruled that Andrew Brown, 25, should have his sentence reduced to 17 years.
He was jailed alongside Dean Melnyk, 22, for murdering Kevin MacKay, 40, in Ecclefechan in June 2014.
Melnyk had his sentence cut in November 2014 and judges ruled the same should apply to Brown.
A High Court jury heard how the pair took the law into their own hands hours after the funeral of their friend Jamie Abba in August 2013.
The duo believed that Mr MacKay had supplied the pill that killed teenager Mr Abba.
The two men travelled from Lockerbie to Ecclefechan and repeatedly stabbed Mr MacKay in what was described as a "frenzied revenge attack."
'Comparative justice'
The pair were handed life sentences and ordered to serve a minimum of 20 years following a hearing at the High Court in Edinburgh.
However, in November 2014, Melnyk had his jail term cut from 20 years to 17 years.
Appeal judges Lord Malcolm and Lord Drummond Young cut Melnyk's sentence ruling that it was too harsh and did not reflect the circumstances surrounding the offence.
Brown's sentence has now also been cut after it was ruled that it was also too long.
Judges Lord Carloway, Lord Brodie and Lord Bracadale ruled that because Melnyk had his sentence cut, Brown should also have his reduced.
In an opinion issued at the court, Lord Carloway wrote: "In the circumstances, as Mr Melnyk has had his punishment part reduced to one of 17 years, the need to ensure comparative justice dictates that this court should reduce the punishment part in the appellant's case also and substitute one of 17 years."