Minibus driver is banned from the road for 30 months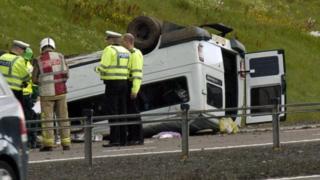 The driver of a minibus who admitted he "drifted off" while driving on a motorway has been banned from driving for 30 months.
Ian Scrivener, 35, was also fined £800 after Dumfries Sheriff Court heard that a baby in a child seat was thrown on to the hard shoulder in the crash.
The girl was treated for a head injury after the accident on the A74(M) near Beattock in June last year.
She was among eight people, including five other children, hurt in the crash.
The court earlier heard that Scrivener, of Milton Keynes, had taken over at the wheel when the driver complained of being tired.
He was part of a group who were returning to England from a funeral.
The court was told the vehicle went off the road and rolled over two or three times.
Scrivener admitted driving carelessly and failing to keep the minibus under control, driving while holding only a provisional licence and without insurance.