Rain warning for south west Scotland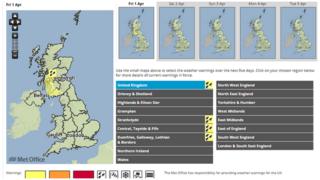 A warning of heavy downpours and possible flooding has been issued for parts of southern and western Scotland.
The Met Office alert is valid from 13:00 to 23:55 with the worst impact expected in Dumfries and Galloway.
Slow-moving, persistent and occasionally heavy rain was forecast for western and south-western areas.
Standing water and spray could make for difficult driving conditions. The rain was expected to clear south-eastwards overnight.