Fancy running your own festival?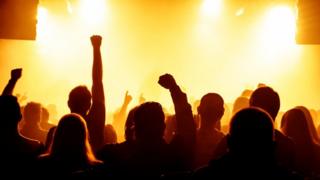 If you've ever had a hankering to run your own festival, Dumfries and Galloway might be the place to do it.
It has been trying for some time to develop a reputation as an "event-friendly" region.
Now the council has produced a "toolkit" with a step-by-step guide on how to stage your own festivities.
So what is the key advice to people who have great idea and hope to make it a reality?
It's all about the money
One of the main aspects to organising any event is laying its financial foundations.
Dumfries and Galloway Council's guide provides a budget planner to help make sure the key bases are covered.
It also warns against making "overly optimistic" predictions about income from ticket sales and assuming that a previous edition's success will be replicated a year later.
Staff costs, venue hire, policing, stewards, licensing, road closures - they can all add up.
A pre-formatted spreadsheet has been provided in order to try to avoid any economic pitfalls.
It's all about the money - part two
If you don't have the resources yourself - who could you turn to in order to back your plans?
The report lists a string of organisations which might be willing to support a festival or event if they like the idea and believe it could be a hit.
It also provides advice on how to fill out grant applications.
So, you'd better be prepared to develop a taste for paperwork before your celebration begins.
Have I got news for you?
Publicity is also flagged up as an essential element in ensuring any festival gets the maximum media attention and, in turn, strong attendance figures.
It is important to know who your event is aimed at and make sure they get to know about it.
Posters, leaflets and flyers can get the word out but you might need to get the local or even national press involved.
Social media - Twitter, Facebook and the likes - can also play a part in creating a "buzz" about your plans.
Everybody's got a hungry heart
The way to a festival-goer's heart is, increasingly, through their stomach.
"Food and drink can be a key aspect in helping your event become successful," the toolkit states.
"Individuals' expectations of food have risen greatly in recent years and people are now becoming more interested in locally sourced produce.
"Attendees of your event will also be more inclined to stay longer if they can enjoy some good food too!"
Things can only get better
A final aspect which might be time-consuming but is considered to be critical, is monitoring and evaluating an event after it has been staged.
Visitor numbers, ticket sales and audience surveys can all help to assess what parts of proceedings worked and what parts did not.
"Properly recording how your event has been delivered and the outcomes it generates allows you to build a good foundation for the future planning and development of your events," says the report.
Who knows, what you started as a one-off event might end up as an annual fixture on the festival calendar.
Go for it
If you think you've got what it takes then the full guide is available online.
You might be up there rubbing shoulders with Youth Beatz, the Eden Festival or the Dumfries and Galloway Arts Festival in no time.