St Abbs lifeboat replacement to be commissioned by July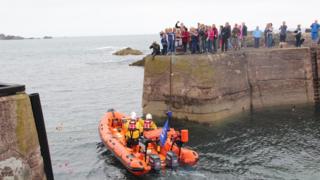 A new St Abbs lifeboat - backed by a donation from teacake firm Tunnock's - should be in operation by July.
An order has been placed for a 9m (30ft) RIB Recue Craft with Liverpool-based boat builders MST.
St Abbs Independent Lifeboat said the new vessel - to be named Thomas Tunnock - would be commissioned in the summer.
A campaign started last year to raise funds for a replacement lifeboat after the RNLI removed its service in September.
Charity chairman Alistair Crowe said the new boat was "ideal" for their work and would increase search and rescue capabilities along the Berwickshire coast.
The campaign has brought in more than £300,000, including a donation of £260,000 from Boyd Tunnock, the owner of the caramel wafer firm.
The new boat will be named Thomas Tunnock, in memory of Mr Tunnock's grandfather and late brother.
Mr Crowe said fundraising continued to ensure the long-term future of the service.
"Once we are in a position to do so, we will announce plans for delivery and launching of the service based around our traditional lifeboat day at the end of July," he said.