Galloway Community Hospital improvement commitment praised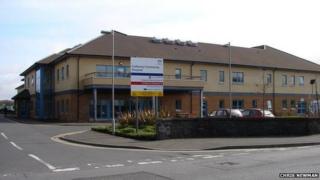 Inspectors have praised a health board's commitment to deliver improvements required at a south of Scotland hospital.
It followed Healthcare Improvement Scotland's latest visit to the Galloway Community Hospital in Stranraer.
It had previously raised significant care concerns, prompting NHS Dumfries and Galloway to issue an apology.
The latest inspection found areas of good practice but did flag up further improvements required.
A visit last year found the hospital had still not done enough to tackle concerns previously raised over care provision.
This time around it noted some progress as well as a commitment to deliver more.
'Necessary improvements'
HIS head of quality of care, Jacqui Macrae, said: "We noted areas of good practice and examples of positive interactions between staff and patients.
"We did, however, identify areas where the board can make further improvements.
"For example, it is essential all medical and nursing documentation is legible, dated, timed and signed."
She said it was also important that documentation provided details of any assessments and reviews undertaken, and provided clear evidence of the arrangements made for future and ongoing care.
"It is clear that the senior leadership in NHS Dumfries and Galloway have taken this report seriously and are committed to bringing about the necessary improvements in the quality of care for patients at this hospital," she added.
"We will continue to inspect Galloway Community Hospital and report on the hospital's progress."
'Very impressed'
NHS Dumfries and Galloway chief executive Jeff Ace said it was "pleasing" to hear that the inspectors noted the positive comments from staff, patients and relatives about care delivered at the Galloway Community Hospital.
"The team works hard to provide high quality care and we welcome their effort and commitment," he said.
"However, I am disappointed that progress on issues such as record keeping, which were highlighted in an earlier report, has not been as consistent as we had hoped.
"We will support the team to help them make the necessary changes."
Nurse director Eddie Docherty said he had spent some time in uniform working with staff on the wards at the Galloway Community Hospital.
"I was very impressed by the way they treated patients with dignity, responded quickly to requests for help and made sure there was adequate support at mealtimes for those who needed it," he said.
"I recognise there are challenges, particularly around record keeping, falls management and pressure ulcer care.
"It is important to remember that patients and family members made very positive comments about staff, treatment and the food.
"The board is committed to working with staff to make the changes highlighted in the inspection report."